New Postpaid plans for an unstoppable business
More Data. More Minutes. More Productivity.
All business. All benefits.
Mobile Plans starting from just AED 110/month
Begin by exploring a rich suite of high-performance business plans that offer you the choice of data only, a combination of data with local and international minutes, or simply go unlimited!
Hybrid Blend
For access to advanced & traditional mobile features
Robust Reliability
A stable network that all smart solutions can always rely on
Fixed Flexibility
Choose on your terms, with contract or none, and more
Are you looking for
Fuel your business by selecting what's right for you & tap into plans based on your business needs.
ONLINE OFFER
Advanced Plans?
110 AED/month
5% VAT excluded
Discover high-value plans, with vast voice allowances, Carryforward feature, non-stop data & more!
ONLINE OFFER
Unlimited Plans?
325 AED/month
5% VAT Excluded
Experience the power of unlimited minutes & data, roaming allowances, a Gold number & more!
Data Only Plans
Explore plans that are agile in nature and rich in benefits, offering you supersonic data with a selection between 500MB to 100GB, from only AED 29/month!
Easy Prepaid Convenience
One number, two plans. Discover an independent rechargeable wallet to easily switch between business to personal calls, SMS & data!
Business Roaming Supersavers
Indulge in affordable Roaming Packs to always stay connected to your business, from wherever you are. Starting from just AED 15!
Mobile Service Center
Keep an eye on only what your business needs with tailored alerts and exclusively priced add-ons based on your usage with 360-degrees of access, all in one place!
Download the Business Mobile Brochure!
Gain access to product insights, core ways of application and features offered by Business Mobile.
Looking to boost your current allowances?
Boost your plan, your way with a range of flexible add-ons, offering extra data, minutes, bundles, and more ensuring that you never worry about running out of allowances again. Starting from only AED 10/month!
Looking for the latest business devices?
Choose between the latest Apple and Samsung smartphones or tablets with the convenience of fixed, easy monthly payments, starting from as low as AED 90/month with zero interest!
Still can't find what you're looking for?
We're right here, our team is your team! Simply submit your inquiry and get expert sales guidance on our solutions!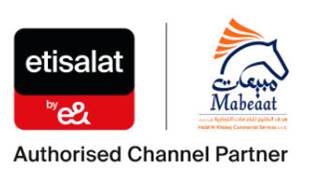 Tel.
046081111
Mobile:
0501074321
© 2023 Etisalat. All Rights Reserved.